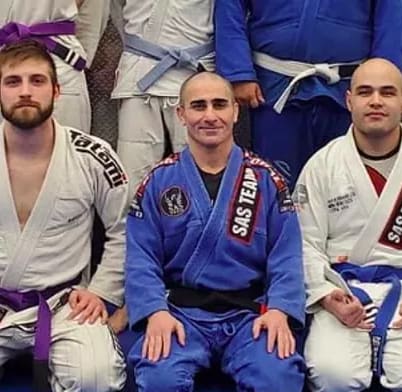 Chad Chalileh
Professor Chalileh began his Brazilian Jiu Jitsu journey in 2007. He received his purple belt in 2009 after winning the IBJJF No-Gi Pan Ams at blue belt. He is Waldwick High School's only NJ State Champ with an undefeated senior year at 31-0. Chad earned his black belt from Tim Shirley, the founder of Ótimo BJJ.
He began his professional wrestling coaching career at the age of 19 at Don Bosco Prep and doing group and personal wrestling lessons. More recently, he served as head wrestling coach at Waldwick/Midland Park High School. He has a 4th Dan (4th Degree) black belt in Aikido under the USAF. He also enjoys training in Muay Thai and Boxing.
A seasoned yoga teacher (500 E-RYT) and personal trainer (NASM) since 2002, Chad brings a mindful approach to learning and teaching martial arts. He has also led yoga teacher trainings (200 hour), and retreats and workshops incorporating meditation, mindfulness, and yoga.
His intention is to create an environment where you will be supported to thrive at your maximum potential on and off the mats.